I am part of a private scrapping board and right now we are doing a challenge called Rise to the challenge it is either 5 or 6 weeks long. Every week we are given a challenge and have a week to do the LO and send it to the secret judges. They then judge us on 5 different criterias and on Friday we find out how we stacked up.
Week 1
The rules: Simon Says
You all remember how to play right?! Have fun!!
Simon Says to use CS as your LO Base
Simon Says to use 3 PPsSimon Says to use Buttons
Simon Says to use anything to attach your items to the paper
Simon Says to Distress your photos
Use ink to distress it
Simon Says to use 'White Space'
Simon Says to Use 2 Photos
My LO
the judges scores and critic

Devon 39 out of 50

Awesome LO. Nice use of white space without the LO feeling empty.
I like how you used the star pp and the star buttons to complement each other. I think, though, that your photos kind of blend into the white c/s background and into the pp that is mostly white, and so they don't have as much "punch" as the pp stars are, KWIM?
I think if you would have angled the whole thing across the bottom left corner instead of having it straight, it would have "fit" better. I wish you would have distressed the photos more. If you hadn't mentioned where you sanded it, I don't know if I would have noticed!
Like the patterned paper. Would have liked to see more of it used as there seemed to be a lot of white space. Probably a preference thing; however, the amount of white spaces seems to overpower the LO and make it look unfinished. Would have liked to see a title and/or some more journaling. Glad your tried the technique; however, it's doesn't show up much from your photos. Overall, like the color coordination and the star buttons are super cute.
pictures distressed?
Very cute LO, and great use of white space! I think you could have distressed your photo a little more. You could have been more creative with how you attached your elements to the page, and a title cut out of that bright pp would have looked great. Good job
my thoughts on the judging yes I didnt distress it much, I just dont like the way pictures look distressed ex without ink so I tried to just squeak enough in to make it work for this contest.
The pictures do look pretty washed out in the picture of the LO they pop out more IRL
Didnt know I was being judged on how creativly I attached my pics to my page guess I should have busted out my sewing machine

Week 2 The rules
Rules:
You must include a clear object on your LO (ie. recycle some plastic packaging, ghost shape..etc)
You must use at least 1 punch on your page (be creative!)
You must treat the Ad as a LIFT (not just inspiration of colors etc.)
All I can say is EEEK Ad challenges are not my strong suit! I would have NEVER choosen this one but this is all about getting you to try new things soooo.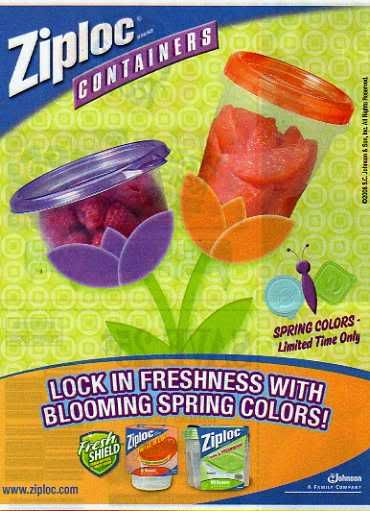 Here is my LO
Here are my scores and Judges comments
Devon 36
Beautiful LO, I like how the blue and white cs compliments the pictures so well. I think you could have been more creative with your clear object. The flourishes and owl are a nice touch!
Great LO great work with the lift! I'd like to see more attention paid to the techniques and elements!
I like the placement of your title on this LO, and the placement of your flourishes. I get that the bottom white curve represents the snow, but I still would have liked to see some subtle detailing in that area.
Nice job overall. It seems a little incomplete though. Adding something to the blank area on the bottom would help and would be more in keeping with the ad.
The bottom of this LO seems plain. I think it would have benefited from some paper with more of a pattern. I do like the flourishes and the owl.
My thoughts I agree, I had a ton of things on that bottom white curve but nothing I had looked right so blank it remained.
Again I tried to squeak by with required elements and techniques. Trust me I learned my lesson next week!

Week 3
the challenge
Focus on the Photo
Create a LO that the Photo(s) are the center of attention!
Make sure your Photo is the focus of the LO.
Higher points if you can add close up detail to your Photo by focusing in on one area of the main photo with an additional close up photo.
Other requirements:
Technique - Doodling, you must doodle on your page....be creative!
Your page must include a pocket
Must include an arrow on your LO
My LO
a close up of some of the doodling

Devon 40
Great job! Great use of a close up and nice doodling.
I love how you placed your title around your zoomed pic and doodled around it - really shows it off perfectly, and I love how you did the title itself. I'm not sure that the greens of the word frog, the frog pp, and the background c/s - kind of contrasting with the bright green grass - coordinate effectively. Wish I could see the LO IRL. Oh, I also like the placement of the arrow - understated but overlapping both pics. Great job!
Perfect picture for this challenge! Thank you for the close up of the doodling, I gave you more points once I could really see all the doodling you did!
you did a great job with this LO. I love how you enlarged the pic to fill the entire left side.
The pp goes perfectly with the theme. Nice touch doodling on the letters.
My thoughts I LOVED the way this LO turned out as soon as I read the challenge I knew what pictures I was going to use. The close up of the frog was actually a seperate picture that I took after the 1st just for use like this. LOL
Week 4 I cant show you the LO yet it is due tonight for judging. but here are the rules
Make a symmetrical LO that is also monochromatic. (monochromatic means only 1 color, no black, no white etc.... ) (Your photo is the only thing that can have color other then the color of choice in your monochromatic)
Your LO must include the following:
Technique - Stamping (Be creative!!)
Elements - Brads & Ribbon must be used
I will post it on friday with my scores!
Week 2
Week 3